An Italian Restaurant With American Flair
Proudly serving the Northwest Suburbs in Northbrook, Illinois across the street from Village Square of Northbrook, and next to another stand alone restaurant; for over 25+ years, Next Door Bistro is a place to find your neighbors and your friends. It is friendly, elegant, and reminiscent of an authentic Italian eatery you've been too before, in the old country, right Next Door.
Our Menu has something for everybody! Between Next Door Bistro, friendly staff and fresh seafood, variety of homemade pasta, chicken, steaks and salads is what keeps customers coming back for years!
Thank you for you loyalty and reviews, The Next Door Bistro Team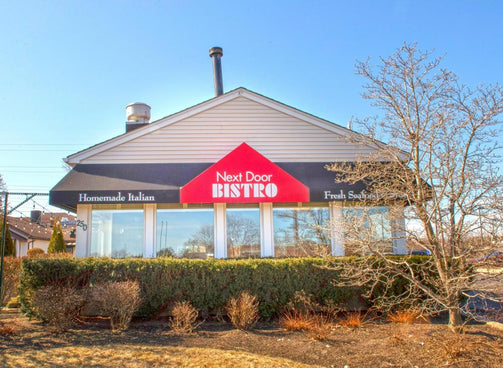 Lunch Appetizers, Salads & Soup

15

products

Lunch Sandwiches

7

products

Lunch Pasta

10

products

Lunch Entrées

9

products

Lunch Specials

23

products

Dinner Appetizers, Salads & Soup

15

products

Dinner Pasta

8

products

Dinner Entrée

20

products

Dinner Specials

18

products

Dessert

9

products

Beverages

11

products

Wine, Champagne & Beer

62

products
Showing 36 of 62 products on Wine, Champagne & Beer collection